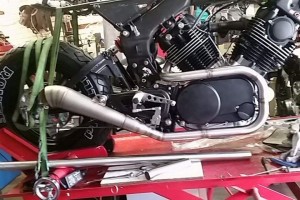 Grant contacted me to build a custom stainless exhaust for his 1981 Yamaha XV750 caferacer. Grant had a very specific design and style in mind so armed with some pics and a debrief I was able to get busy creating his new exhaust system.
Ensuring the rear cylinder pipe followed the engines lines throughout it's routing work started 1st with the exhaust port super tight bends to clear the frame section. The exist was kept level with the case and then tracks around the side cover, remaining parallel top and bottom.
The front cylinder had it's own fair share of challenges as the starter motor obstructs the line of the pipe but I managed to add a few extra tasty bends, merging this pipe into the rear header as far to the rear as possible in order to create as much length into the front pipe.
Grant had purchased a dan-moto muffler to finish off the exhaust.
I used 316 grade 1.6mm tubing 1 1/2″ pipe merged into the 2″ muffler leaving the welded heat signatures in the pipe.